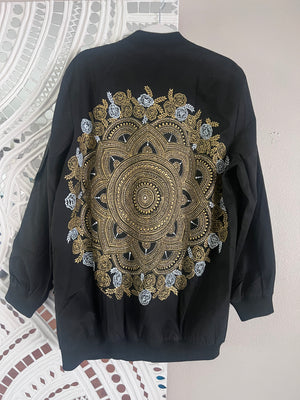 Neha Assar Artistry
Gilded Bomber Jacket
Sale price Price $749.00 Regular price $24.50
Make wearable art a staple in your wardrobe. The Gilded Bomber Jacket is hand painted using a soft, yellow gold and matte white. A clear Swarovski crystal embellishes the center of the mandala, tying in the elements of the artwork. It pairs well with leggings, a soft tee and your favorite pair of sneakers for a polished but comfortable look. Make it fun for the warmer days with a pair of cut off shorts and a crop top. The possibilities are endless.
Note from Neha Assar: This hand painted bomber jacket was an absolute delight to paint. I simply measured just enough to find the center of the jacket and all the rest was done on the fly. I prayed the design would end up equidistant from the edges and it ended up being so. The freehand mandala and florals are painted using a soft, yellow gold. White matte florals were added for personality. The mandala is also embellished with white matte dots. This allows the jacket to look different in different light settings. 
• Material: Outer layer - 100% Cotton. Lining - Satin.
• Gold hardware on jacket including zipper on left sleeve.
• Machine wash cold, inside out on hand wash or delicate setting
• Lay flat to dry
• Copyright Neha Assar