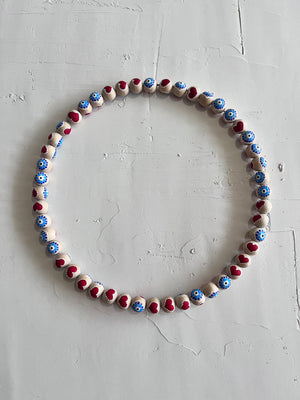 Neha Assar Artistry
Eye See Love Wreath
Sale price Price $135.00 Regular price
These eyes only see love with whimsical, playful artwork hand painted by artist Neha Assar. It's a perfect reminder to stay in your loving and positive vibe space. Each bead has an evil eye on one side and a heart on the other. When hung up or placed on a surface, the beads can be manipulated to fit the mood for the day. 
Note from the creator:
This wreath took some time to create. I wanted this piece tocreate curiosity and conversation. Theres something about feeling the smooth, wooden beads and feeling the texture of the artwork on them. The fact that each bead spins and reveals a contrasting design makes my heart sing! I see this wreath as being super versatile. It would look great in a minimalistic space with neutral colors, but I also see it in a super eclectic space with a lot of vibrancy. Either way, it will have great presence in its space. 
Dimensions: 
Approximately 15 inches in diameter
Each bead is approximately 1 1/2" in diameter
The artwork is approximately 1" in size