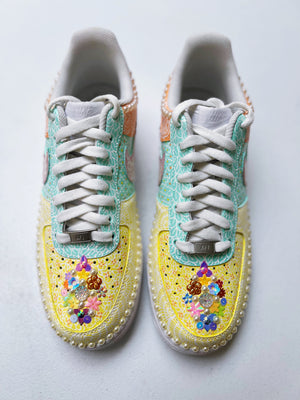 Neha Assar Artistry
"Devi" Hand Painted and Embellished Nike AF1 '07, W 9.5 / M 8
Sale price Price $999.99 Regular price
Neha Assar has literally given Nike AF1 sneakers a South Asian bridal makeover! These one-of-a-kind sneakers are hand painted with pale yellow, pastel mint and soft peach with matte white mehndi inspired art.
The pattern play on these sneakers is what gives them personality. Moghul motifs are placed adjacent to florals on one side and intricate mehndi patterns on the other. The patterns should not be mistaken for being stenciled as each motif/line/curve/dot is done by hand. 
The shoes are hand embellished with pearls and carefully curated sequins. The Nike Swoosh is holographic using tiny unicorn shaped sequins in order to compliment the color scheme of the shoes. 
Wear these sneakers under your reception lengha so you can slay your bridal look hard, but party even harder. Better yet, rock them with your favorite bodycon or streetwear look. How will you style these? 
Note from the artist: "My favorite characteristic of these particular AF1s is that there is no gold or silver paint or embellishment on the shoes. Everything is holographic, which keeps it interesting but also makes it easy to match with gold or silver jewelry or embroidery. Trust that keeping metallics out of the design was challenging. However, the sneakers turned out to be even more than what I had imagined. I hope they go to a home where fine art is truly appreciated."