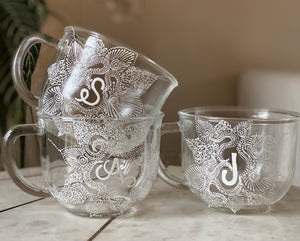 Neha Assar Artistry
Monogrammed Mehndi Mug
Sale price Price $29.50 Regular price $29.50
This clear, custom glass mug is hand painted by Neha Assar and is totally adorable with its soft white mehndi designs on it. The designs are a beautiful contrast to beverages of all sorts.
Each mug is customized with the letter of your choice to give it a unique personalized touch!
Note: The mehndi design will vary slightly as these are hand painted. Hand wash only.