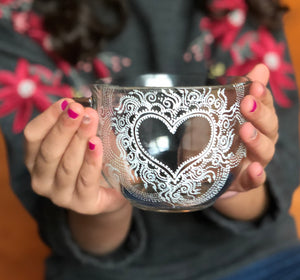 Neha Assar Artistry
Heart Mug
Sale price Price $29.50 Regular price $29.50
Let someone know how much you love them with this adorable heart mug!
This clear, custom glass mug is hand painted by Neha Assar and is totally adorable with its soft white mehndi designs on it. The designs are a beautiful contrast to beverages of all sorts.
Each mug is unique with an intricate heart painted on it! 
It's sure to be a conversations starter among your peers! 
Note: The mehndi design will vary slightly as these are hand painted. Hand wash only.